Submitted by Michael Frankfort @mfrank_76
Please click these two links to be directed to the websites for more information
Deep Water in a Sleeping Volcano
Crater Lake inspires awe. Native Americans witnessed its formation 7,700 years ago, when a violent eruption triggered the collapse of a tall peak. Scientists marvel at its purity—fed by rain and snow, it's the deepest lake in the USA and one of the most pristine on Earth. Artists, photographers, and sightseers gaze in wonder at its blue water and stunning setting atop the Cascade Mountain Range.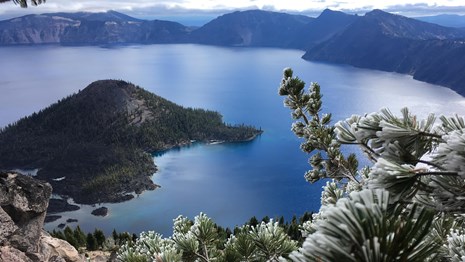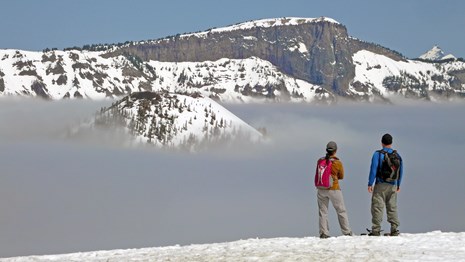 Deep and Pristine Waters
Standing lakeside at Crater Lake is like nothing else—the deepest water in the country, filling a sleeping, dormant volcano, can only be described as a blue enigma. To visit Crater Lake is to step into the fiery moments of Earth's creation.
The deepest lake in the United States and the seventh deepest lake in the world is at Crater Lake National Park in Southern Oregon at the Cascade Mountains.The lake (1,943 feet deep) lies inside a caldera, or volcanic basin, and was created when the 12,000 foot high Mount Mazama collapsed 7,700 years ago following a large eruption. Because the lake is filled almost entirely by snowfall, it is one of the clearest lakes in the world.
Crater Lake National Park is comprised of 183,224 acres of mountains, peaks, evergreen forests, and lake. The ranging elevations throughout the park provide diverse habitats for an array of wildlife and make for an outstanding outdoor laboratory and classroom.